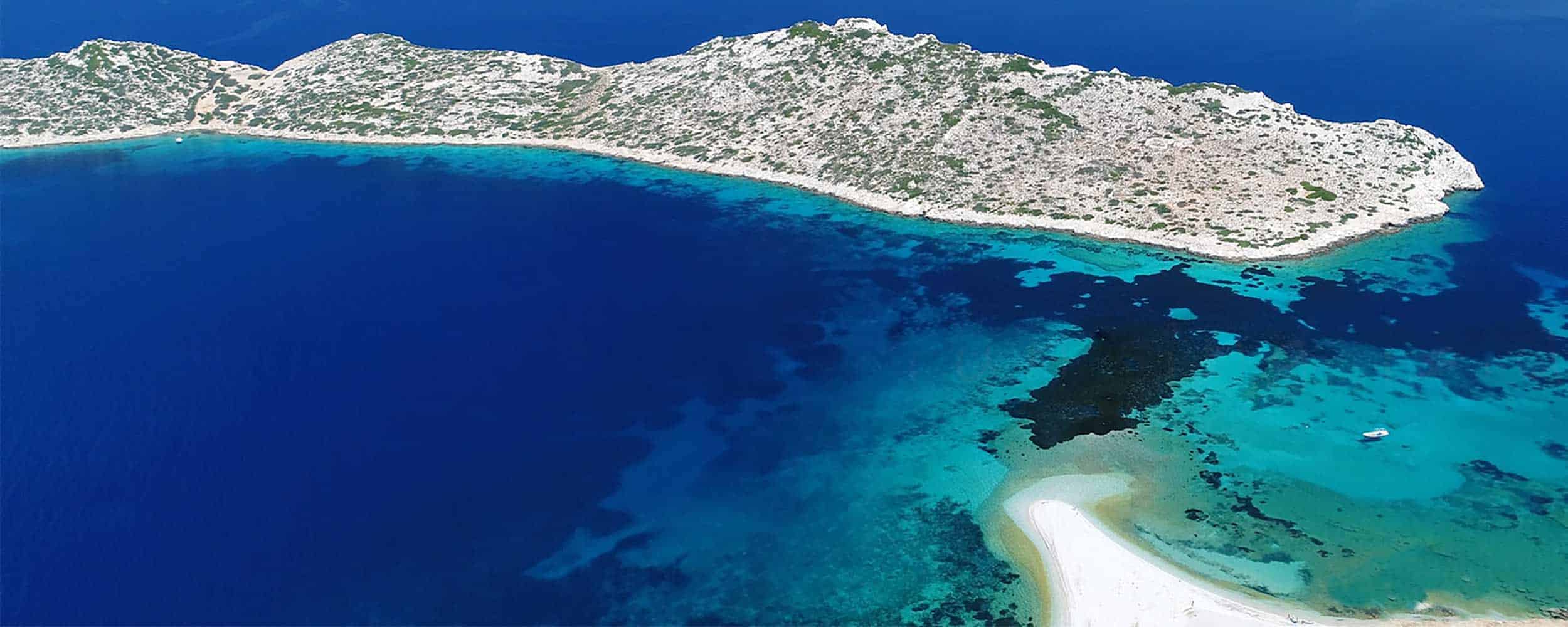 Travel from Athens to Amorgos
Amorgos does not have an airport but is easily reached with daily ferries and high speed vessels. Athens International Airport (ATH) is the most convenient to arrive. We suggest visitors should arrive one day earlier in Athens or book a flight arriving before 14.00 so that they are at the port on time – most of the ferries to Amorgos leave at 17.30. There is one daily connection to Amorgos Island (except on Saturday during winter) from Piraeus port, Athens. Ferries dock alternately at the two ports of Amorgos Island: Katapola and Aegiali (closest to the hotel)
All options for your transfer from Athens International Airport Eleftherios Venizelos to the port of Piraeus:
Private transfer: on request.
  Bus: Express bus X96 leaves every 20 minutes during the day and every 40 minutes at night from the Athens International Airport Arrivals Level (between Entrance 4 and 5) to "Karaiskaki Square" in Piraeus, right outside the ferry port. The ticket costs 5.00€. The trip takes from about 1 hour and 15 minutes to 1 hour and a half.
 Metro: The subway will take you from the airport to Monastiraki station. There you will change to line 1 (green line). The end of line 1 is Piraeus station, just outside the entrance to the ferry port. The journey time from Athens International Airport to the port of Piraeus is about one hour. Trains are every half hour (:00 and :30), with the first service departing the airport at 05:30 and the last service at 23:30.
  Taxi: This is the most hassle-free way. The drive from the airport to the port takes 45 to 60 minutes.
During summer season, from the middle of June until the middle of September, Amorgos ports can also be reached with high speed vessels departing from Piraeus and Rafina ports. Vessels like Seajet Superjet and Hellenic Seaways deliver services to Amorgos during that period.
From Santorini to Amorgos
---
During summer season, it is possible to fly to Santorini, from where there are daily high speed vessel connections to Amorgos.
From Naxos to Amorgos
---
You may take a taxi outside of the Airport of Naxos Island to Chora (also known as Naxos Town), about 1km away.
There is a daily connection to Amorgos  on board the local ferry Express Scopelitis departing at 14:00 – arriving at the port of Aegiali on Monday, Wednesday and Saturday and at Katapola port every day, except for Sunday. This trip can be considered as a mini cruise to the Small Cyclades island cluster (Iraklia, Schinousa, Koufonisi, Donousa). The duration of the trip is 4 to 5 hours.
Every night at 23:00, the Blue Star Ferry departs from Naxos to Amorgos (Monday, Wednesday and Thursday to the port of Aegiali – Tuesday, Friday and Sunday to the port of Katapola). The duration of the trip is 2 to 3 hours.
The above connections are valid all year round, including winter period. From June to September, additional ferries and hydrofoils connect Amorgos with Piraeus, Santorini, Naxos, Paros, Mykonos, Rhodos, Milos and more islands of the South Aegean.
From Mykonos to Amorgos
---
From the middle of June up to the middle of September there are high speed vessels (Seajet-Superjet) running 5 times a week from Mykonos to Amorgos and back. The trip lasts approximately 2 to 3 hours.