LALON IDOR SPA…WATER THAT SPEAKS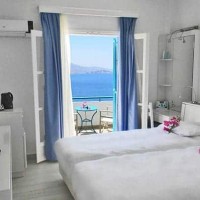 THALASSO SPA & BEAUTY CENTER
A soothing experience of stillness and harmony amid the mind blowing scenery of the Aegean.
Lalon Idor Spa is situated on the magical island of Amorgos, well known for its healing and transformative energy, dramatically beautiful landscapes and medicinal herbs that grow wildly on its hills and valleys, as well as its hypnotic blue waters.
The name of our Spa is taken from the story of the ancient water oracle dedicated to god Apollo, where visitors came seeking clarity and answers in prophetic water readings. Find purity and peace of mind in a nurturing and peaceful atmosphere, allow the nurturing hands of our highly qualified and inspired therapists bring you to a state of stillness and rest, and let the voice of the sea soothe your mind away from your daily responsibilities or musts.
Our vision is to create an inspiring experience that will enhance your health and total well being; therefore, we have created a generous selection of Spa Journeys, combining Eastern and Western healing arts and the best of classical Spa and beauty treatments that will invigorate you and help you unwind, depending on your needs and state of mind.
A UNIQUE EXPERIENCE
Our specialty: Creating a tailor made pampering and luxurious experience for every individual need and wish for relaxation and care.
Our signature: A heartfelt and genuine approach that makes every guest feel special and at ease.  A holistic approach to health, aiming to transform every Spa treatment into a body and mind healing experience, getting our inspiration from the generous natural resources around us, the closeness to the sea and the magnetic energy of Amorgos.
In our aim to inspire you to maintain a healthy and sustainable life style, we have created a Specialist Menu that includes Chi Nei Chan (Abdominal Therapeutic massage), Traditional Thai Massage, Reflexology, Cranio Sacral Therapy, Nutrition and Holistic Health and Lifestyle Coaching, Meditation. We work with natural, organic products and local herbs and we believe that care that combines simplicity, purity and proximity to nature is the most effective recipe to glow and wellbeing.
Dwell in timelessness and light in our peaceful premises, enjoying the large spaces, the generous terraces over viewing the Aegean and the sounds of water. Stroll around among our Hammam, the Swedish Sauna, the Sea Water Pool and whirl pool, a gift for tired joints and the Jacuzzi, unbeatable for deep relaxation.
Celebrate unforgettable times in our outdoor private Jacuzzi, nibbling fresh fruits, local olives accompanied by a refreshing healthy shake from our Spa Bar or -why not- a glass of champagne… Feel that you are on the roof of the world over viewing the Big Blue.
Ultimately, listen to the voice of the sea in our  pearl, the Namaste Shala, a 100 m2 studio, that currently hosts teachers from all over the world holding Yoga and meditation retreats and teacher trainings, as well as our daily 90 minute Yoga Practice with our in house teacher.
This beautiful light outdoor space with a pergola cover offers the meditation, yoga or dance practitioner a poetic sight over the Bay.